Description
Self-Defense: Tools of Attack, Club, Hatchet, Blackjack, Knife, Straight Razor by G. S. and Mac Mierzejewski (Translation and Comments by Thomas Kurz)
G. S. demonstrates for Mac Mierzejewski (camera) how he practices with the tools of his trade.
Become lethal instantly. . . not in years but in hours . . .
Instantly, after just one viewing of this video, you will know how to let loose with an unstoppable lethality—if need be …
With a little practice you will put fear into everybody—not just the much titled martial arts "masters" but into experienced street fighters and thugs too.
Now you can see the other side of self-defence—a street fighter's practice.
This stuff comes from the worst neighbourhoods of Eastern Europe. Why did we decide to reveal this private video? (It was shot just to give a few fighting tips for a friend.) Because today more than just your life may depend on your fighting skill . . .
This video shows practice drills of an experienced street fighter. In many confrontations, his techniques have never failed him. He shows what is real and how to practice with common street weapons. Observe him learn the correct techniques and the training drills with a club, hatchet, blackjack, knife, and razor.
If you are serious about your self-defence skills, you will use this video to help you become proficient with these weapons yourself. Why? Because proficiency with the methods of attack is essential for developing working defence skills. In the case of armed attacks, the need for proficiency with the weapons and tactics you are likely to encounter is critical for escaping death, or an ugly mauling, or worse . . .
It is best to be skilled with a given weapon and to practice defences with a partner who is also good with it. Short of that, you can study videos of fighters. At least, viewing such videos gives you an idea what you are up against so you do not have dangerous delusions. At best, you will pick up essential skills for your practice, spot weaknesses of the attacks, and mentally prepare yourself.
Practising and becoming proficient with weapons your attacker may use give you the following advantages in self-defence:
You anticipate the potential danger because you know how fast and from what distance the weapons can be used.
Once you see the weapon, you know what to expect and in what manner it will probably be deployed.
You do not panic. The situation is familiar and you do not freeze while thinking "What is this?" "Why is this happening to me?" Or, "What do I do now?"
Through systematic practise with weapons, you may reach a higher level of skill than that of your attacker.
This last point is worth elaborating. Being more skilled with weapons really pays off. Even if you do not have any weapon with you at the time of the attack, seeing that the attacker handles his weapon worse than you would boost your confidence. High confidence will let you act decisively, without doubts and hesitation, instinctively doing what needs to be done. High confidence will let you use your knowledge of the weapon to take advantage of an attacker's "weak" moments, which a less skilled or more hesitant person would miss.
G. S.
Learn from the best. G. S. has never lost a fight—for money, life, or limb. He collected debts, settled scores, and provided personal protection in some of the worst neighbourhoods of Eastern Europe. Through all the bloody fights he stayed unbeaten, in "one-piece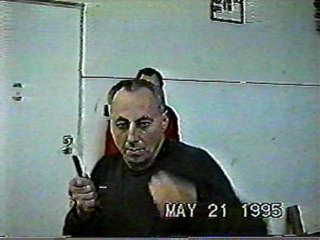 ," thanks to his rational technique and the intensity of his simple drills. This video shows the simple moves and simple drills that kept him winning every time.
G. S. spent most of his youth in East Europe's correctional institutions. A few years of this time were spent in a special prison where inmates were "rehabilitated" by systematic beatings and starvation. There he lost his teeth and acquired tuberculosis. He was never broken.
Known for toughness under pressure, but also as a well-read man.
Used a knife as his weapon of choice in frequent fights.
His short video has no fluff. It is the result of his bloody experience and keen insight into "what" works and how to practice so "it" works. With just one viewing you will know how to use weapons—and if you do the drills you will be too good to be intimidated—even when you are empty-handed.
Just think how much you'd have to pay to see such a man practice his skills. In the worst-case—your life . . . in the best case—several thousands of dollars.
Mac Mierzejewski


Mac does roundhouse kick and side kick without any warm-up
Mac Mierzejewski, author of Power High Kicks With No Warm-Up! is a full-contact karate fighter and instructor. He holds a M.Sc. degree in Sports Medicine (AWF—University School of Physical Education in Warsaw, Poland) and a M.Sc. degree in Physical Therapy (University of Alberta, Canada). At AWF in Warsaw he completed two additional two-year university courses for karate instructors and boxing instructors. Mac used to teach karate at the Edmonton Kyokushin Karate Club in Edmonton, Alberta.
Mac won:
Gold at Karate Kyokushinkai Championships of Poland—1982-86
Gold at Oyama's Cup (Poland)—1986
Gold (tameshiwari) at European Championships Kyokushin Karate—1987
Gold at Mas Oyama's Canadian Kyokushinkai Tournament (open category)—1989
Gold at Mas Oyama's Asia-Pacific International Open Karate Tournament—1989
He also has won several Best Technique and Best Spirit Awards.
He won most of his fights with kick knockouts
(see them on his video Power High Kicks with No Warm-Up!).
Video: 16 minutes main program plus 8 minutes on everyday objects (pencil, pen, umbrella) for self-defence
Format: DVD | System: NTSC
(Our DVDs are only in NTSC but they play in virtually all PAL DVD players.)