The best selling NTOI® Unbreakable® Umbrellas have a limited time discount coupon.
NTOI® Umbrellas, are handcrafted in the European Union from the highest quality materials and perform in rain and wind just like the highest quality rain umbrellas. Frames of unbreakable NTOI® Umbrellas are hand-made with high-strength aluminium and polyester-fibreglass laminates. Those frames when fully extended can support a 70-kg (154-lb.) weight, and if not abused, will last more than a lifetime. Unbreakable Umbrellas are warranted not to break under normal use.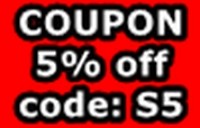 Apply S5 at checkout and get 5% off this week.